The Thrift Stores and thrift donations are open!
NOTE: Masks required to shop, please follow floor navigation for distancing.
Store Hours: Mon-Sun, 10am-3pm;
Donations drop-off: Open every day, 7:30am-2pm
Address: 2710 Chanticleer Ave in central Santa Cruz (just off Soquel on the north side of Highway 1), click here for a map.
Regular weekly specials:
50% off all furniture every Sunday
50% off clothes every Monday
Desktop computers 50% off during November
Bag of books just $10 everyday
More 50% off items every day!
Shop our craiglist and eBay stores for more values. For questions Contact Angie or Diane for info, or call 831-479-1055 ext 233.
Gently used, terrific values. The Thrift Store & Boutique offer a treasure trove of donated items, including clothing, accessories and fabrics, furniture, housewares, jewelry, art, plants and garden gifts, books and media, hardware and tools, medical equipment, games, puzzles, sporting goods, bikes, exercise equipment and more. Click here for a list of items we accept.
We also offer refurbished computers and peripherals, audio/video gear, TVs, appliances and more in our Computer Electronics Store, and thousands of titles in all genres in our Bookstore and online bookstore.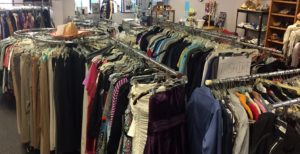 We offer limited home and estate pickups of items in good, sellable condition in Santa Cruz County. Please email pictures of items and/or contact Tina Forest tina@greybears.org, 831-479-1055 ext 235.
Due to safety concerns, our drivers cannot navigate remote or narrow driveways, or haul furniture up and down stairs. All items are subject to visual inspection.
All proceeds from our thrift store sales go to support the Healthy Food Delivery Program, providing a brown bag of groceries to 3,800 seniors each week. Thank you!
A huge thank you to our partner, Robert Slawinski Auctioneers, for their support in selling some of our donated specialty items.