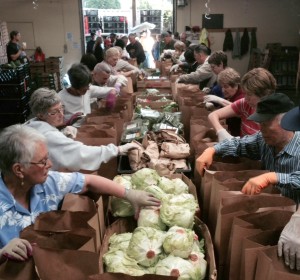 Click here to begin receiving your grocery bags of fresh produce and healthy staples – or to renew your subscription. You're also invited to shop every weekday at 11am in our warehouse free "grocery store" and enjoy a delicious hot lunch at 11:30am.
Since 1973 Grey Bears has delivered more than 110 million pounds of food to thousands of Santa Cruz County aging adults. This year, Grey Bears will distribute 3 million pounds of healthy food to 4,500 seniors, including 1,300 who are isolated.
Each week volunteer drivers deliver bags of vegetables, fruits and staples to 50 sites throughout the county where you can pick up you grocery bag, and another 61 routes delivered to door-to-door.
Here's the food assembly line in action. Click here to sign up!