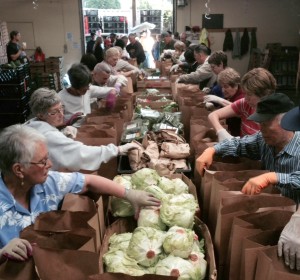 Click here to begin receiving your weekly brown bag of fresh produce and healthy staples! Everyone at any age is invited to become a supporting member of Grey Bears for just $30 a year. Those 55 years and older (and age 50+ with a disability) are eligible to receive a weekly brown bag. Click here to sign up now. No one is ever turned away for lack of funds – scholarships are available.
Local, vital and multifaceted, Grey Bears promotes good nutrition, activity and social connection as the perfect recipe for healthy aging. Since 1973 Grey Bears has delivered more than 100 million pounds of fresh produce and healthy staples to Santa Cruz County seniors and other agencies that serve those in need. This year, Grey Bears will distribute the equivalent of 2 million meals to 3,900 seniors, including 975 who are homebound.
For the vast majority of the seniors we serve, the Healthy Food for Seniors program improves nutrition, stretches fixed income dollars and provides opportunities for social connection and volunteerism. Grey Bears benefits from an active volunteer base of 500 amazing people who donate 80,000 hours of service each year to make our programs possible. Please click here to volunteer. Here's the assembly line in action!