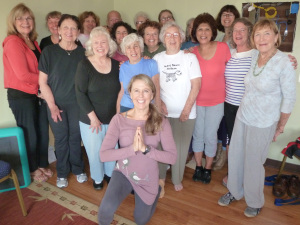 Classes are postponed indefinitely due to the Coronavirus. Suzi Mahler teaches Chair Yoga Zoom classes which you can take from your own home – on Tuesdays and Thursdays at 9:30am, and Wednesdays and Fridays at 10:30am. It's easy on your computer, tablet or phone and you can visit with others before and after class. Just click this link at the above times to join any of her classes: https://us02web.zoom.us/j/5280351389, and enter the passcode: 699677. Contact Suzi to receive updates or call 831-234-6791. Spanish, cooking and other classes will resume as soon as possible.
Events
We love a reason to celebrate! Bringing community together to share a delicious meal and visit with new and old friends is a Grey Bears tradition. Mark your calendar now for this year's fun gatherings:
48th Annual Harvest Picnic – tentatively on Tue – September 21, 2021
Volunteer Appreciation Luncheon – tentatively on May, 2021
48th Annual Holiday Dinner – tentatively on December 5, 2021
Take a moment to see part of Suzi's chair yoga class at Grey Bears.