By the numbers each year…
Pounds of food delivered:  2.3 million
How many meals that provides: 1,916,550
Favorite foods in bags from member survey: strawberries, artichokes, apples
Number of hot meals served from our kitchen: 40,000
Tons of material diverted through our three Recycling Centers: 7,500
Number of transactions in our Thrift Store, Computer Electronics, Bookstore, Hardware Store, Amazon.com and eBay stores:  90,000
Number of volunteers in 2018-19:  810
Annual volunteer hours:  81,460
Value in dollars:  $2,362,340
How volunteers help: quality control, assembly and delivery of weekly bags of groceries; receiving, repairing, pricing and cashiering in the thrift stores; listing books online, electronics test/repair; composting; office, data entry and admin support; teaching classes, fix-it coaching at Repair Cafes and helping with events. Please volunteer now by clicking here to complete our simple online form.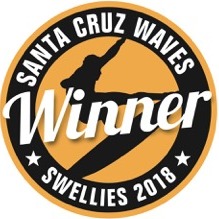 In 2019, Grey Bears Thrift Store received a Reader's Choice Award in the Santa Cruz Sentinel, was named Best Nonprofit by readers of Good Times Weekly, received a Swellie Award for Best Green Business, and in 2018 was voted Best Nonprofit by readers of Santa Cruz Waves Magazine. Grey Bears was named the Aptos Chamber of Commerce Organization of the year, received a Be the Difference award from the Volunteer Center, and was one of President George H.W. Bush's Thousand Points of Light in 1990. Here's a video for Grey Bears created by the Aptos Chamber for its Annual Awards Dinner.
Grey Bears many reuse and repurposing programs for donated materials help conserve resources and divert 7,500 tons of material from local landfills. We host quarterly Repair Cafes where repair coaches help the public learn how to disassemble, diagnose and fix broken appliances, toys, clothing, bikes and more.
For a staff directory click here.
Grey Bears Board of Directors

Grey Bears
2710 Chanticleer Ave
Santa Cruz CA 95065
831.479.1055   info@greybears.org
Grey Bears is a 501(c)(3) nonprofit Corporation, FEIN#: 94-2298681