Name: Dan Reed, age: 74
Lives in: Soquel
Favorite color: Blue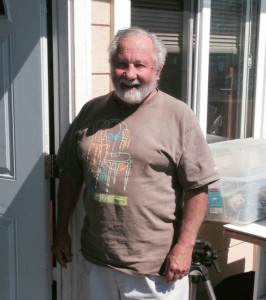 Born:  Los Angeles on January 5, 1940. In 1969 after my wife and I camped around the western US in a VW bus, we chose Santa Cruz to escape LA.
Favorite saying at the time: "Outtasight!"
Activism:  While a meter reader for the Soquel Water District, I was fired for organizing employees to get benefits. I spent 34 years at Lochheed as an electronics tech, repairing equipment. I became a union business agent and contract negotiator for IAM for 10 years "working for the little guy."
Family: Two children, son Tait, 42 works at Zero Motorcycles, and daughter, Angelina, 43, formerly at Giro, now a student, tutor and fellow volunteer.
Hobbies: I painted with watercolors for about six years, and played basketball. Even in my sixties I could take some of the younger guys. I also played softball for 40 years, and began umpiring in 1982. I had always been a bit reserved, some would say shy. Umpiring was my assertiveness training.
On volunteering: I've always loved helping neighbors, and children. I read to nursery school kids and taught Sunday school for 34 years. I came to Grey Bears in 2009 thinking I'd just volunteer one day. Now I spend three days in the electronics store, and also work the brown bag line both days. I've delivered to homebound seniors too, which changed my life.
Most challenging: I count the bags that go into the cars. If I make a mistake we hear about it.
Most unusual donation:  Space Invaders and other old arcade games.
Most fun – Grey Bears electronics store attracts old engineers and scientists. We're like a modern country store, sitting around the stove, telling stories. Customers add to the conversation, and it becomes a fun way to socialize.
Best advice:  My brother and I like a saying from an old Clint Eastwood movie, "endeavor to persevere," or better put, "keep on truckin'."