The Last Minute Holiday Gifts 50% Off Sale is this Saturday, December 22, 10am-3pm. Choose from like new unique gift ideas in housewares, jewelry, clothing and accessories, furniture, computers, electronics, books and books on CD, vinyl, games and puzzles, exercise and sports items, bikes, and much more — all 1/2-off this Saturday!
Fill a bag of clothes every Monday, and a bag of books every Monday and Friday for just $10. OPEN EVERYDAY, Mon-Sun 10am-3pm (closed Christmas Eve, Christmas Day and New Year's Day).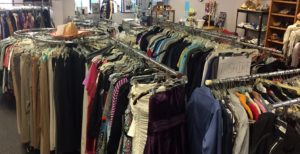 Thank you for your household donations, gratefully received every day, Mon-Sun, 7:30-3:30. You help support the Healthy Food for Seniors program delivering a bag of healthy groceries to 3,800 seniors each week!