THIS SATURDAY, January 11, 10am-3pm. A perfect day to find what you're looking for while lowering your carbon footprint and conserving resources. Huge selection of housewares, furniture, kitchen items clothing, appliances, electronics, audio-video gear, hardware, medical equipment, tools, jewelry, art, computers, books, CDs, DVDs, vinyl, games, puzzles and much more — all 1/2-off this Saturday!
Fill a bag of clothes every Monday, and a bag of books every Monday and Friday for just $10. Store hours: OPEN EVERYDAY, Mon-Sun 10am-3pm.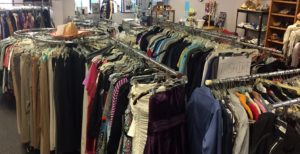 Thank you for your household donations, gratefully received every day, Mon-Sun, 7:30-3:30. You help support the Healthy Food for Seniors program delivering a bag of healthy groceries to 3,800 seniors each week!