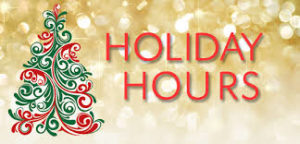 Thrift Store, Thrift Donations & Recycling Center will be closed today, New Year's Day, Friday Jan 1. Starting Saturday, Jan 2nd we'll be open every day during normal business hours.
Buena Vista Recycling Center/Ben Lomond Transfer Station are open and will be closed on New Year's Day, Jan 1.
Healthy Food for Seniors Program: No brown bag deliveries New Year's week Dec 31-Jan 1. The Warehouse will reopen on Monday, January 4, 2020 with bag deliveries resuming that week on January 7-8.
Main Office is closed and will reopen Jan 4 at 8am.
Happy Holidays!