Inside the warehouse Book Cove, volunteers are busy sorting, researching, listing and shipping books in every genre imaginable. The Grey Bears Chanticleer and Amazon.com stores feature more than 10,000 titles, from hiking to history, antiques to zoology, and text books to guidebooks. Each book's description is written by volunteers like Kilda McKeever (pictured at right), who add their own distinctive spice and intuition to help sell the book.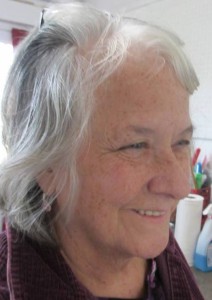 "I love researching. It's like hunting and finding treasures every day," Kilda says. "Someone donated a first edition of 'Gone with the Wind' in perfect condition, and 'Greenwich Village 1917' – a book that interested me because I'm originally from Brooklyn. I was one of nine siblings and we each got a book for Christmas. I learned to read fast because if I put the book down one of my brothers or sisters would take it before I finished it."
The bookstore at 2710 Chanticleer serves our community with a grand selection of hard covers and paperbacks, many of them bestsellers. Have an interest in books unique to California and our history? There are many to choose from. The best part is the price, most are just $1.50 and children's' books are less. For those who just can't get enough to read, every Fridays you can fill a bag of books for just $5.
Donna Merriman, a 40-year resident of Soquel, has been the go-to person in the books programs. A retired bookkeeper who arrived at Grey Bears in 2000, Donna helped get the bookstores off the ground when they first started. She added it to her long list of volunteer activities, including tracking volunteer hours and brown bag assembly and delivery. Donna helps keep the book program on track with other volunteer book experts, Karen, Linda and Beverly. Everyone has a great appreciation for Donna's calm amid the occasional chaos when bins of books arrive.
When asked how the program has evolved, Donna says, "It changes every day. It's grown and become more demanding, and is so worthwhile."
If you're a book lover and would like to volunteer in the bookstore or Amazon.com store, please contact Michelle, michelle@greybears.org, 831-479-1055 ext 226. To shop for books online, just google Grey Bears @ Amazon.com, or visit the books page on our website, www.greybears.org/thrift-store/online-bookstore/. Read on!